The Destination Network appreciates your Production business and your confidence in our ability to create the highest quality, most effective commercial for you.
Our professional television production staff prides itself on creating a professional production in a cost effective and efficient manner.
Out of House (OOH) Specs and Guidelines
There are three main areas of the production process for which we ask your input and assistance as the client:
The Script:
To write a script that will be the most useful to your business, we need information from you. The Production Coordinator will give you a Client Questionnaire to fill out. Please be as complete as possible as this is the primary source of information for our copywriters. We also ask that you provide the Production Coordinator with other materials, such as a menu, print pieces and/or other examples of your previous advertising efforts, so that we can coordinate with your existing message and image.
When the script is finished, the Production Coordinator will contact you and ask you to read over it and approve it. If you see items that need to be changed, just let the Production Coordinator know; we will make the changes and get the revised script back to you promptly. Please also be sure that the Production Coordinator knows the correct pronunciations any technical terms, unique names, often mispronounced or foreign words used in the script.
We also want your input on the type of voice you would like for your commercial spot. We have a "stable" of professional voice talents to draw from, but we need to know your preferences, such as male or female, young or sophisticated, calm or excited, etc. We can provide you with two or three audio samples to choose from within your stated preferences.
When the voiceover is completed, we will ask for your approval, as we did with the script.
The Shoot:
Because each video production is unique, the Production Coordinator will make every effort to schedule a conference call with you before the shoot and plan the details. An outline for the day of filming will also be provided before this phone conference. This "Pre-Production" meeting will ensure that we use your production time most effectively.
Please review the final script carefully so that you are familiar with the items and/or areas of your business that we will need to shoot. We will rely upon you to advise the crew and provide them with the items you wish to feature in your advertisement. If the script requires specific shots, we will make every attempt to provide you with a list of items (such as your featured dish) to be prepared.
If the script calls for interviews or the use of models, we need your patience and understanding. We may have to repeat scenes until we achieve the best possible performance. If you're assisting with model/actor recruitment, please inform everyone that the shooting process is unpredictable and that they may be asked to repeat their actions several times. In all cases, we ask that you provide a comfortable waiting area and possibly refreshments for the cast. Models and/or actors expect to be provided complimentary meals and beverages when shooting restaurant dining scenes.
When photographing food, interviews and other close-up subjects, special lighting may be required and the set-up may take some time. Whenever possible we will use available lighting (turned up as much as possible) as our digital cameras are work much better in lower light levels than older analog models.
When the production crew moves from one area of your business to another, they will have to disassemble and reassemble the lighting equipment, move cameras, re-establish audio integrity, etc. These tasks can be time consuming, so please understand that the crew cannot be rushed from one area to another without sacrificing quality.
When shooting food, the dishes and/or food items prepared for the shoot will not be reusable.
Post Production:
The editing process takes place in our Panama City Beach facilities. We can schedule the edit session only when all of the production elements are in our possession. These will most often include: the final script, the approved voiceover, your company logos in high resolution .jpg format, any footage you provide and, of course, the footage shot at your location. The Production Coordinator will work with you to gather and/or get your approval on these and get them sent to our Production department.
When the edit is finished, you will be sent an email which will give you instructions for logging on to the internet to view your new spot. This digital proof is called a VOD (Video on Demand) file. Delivery of your finished spot via the internet, allows you to see the finished spot virtually immediately upon completion, and it allows you to forward the email to other key decision makers in your company for their approval. Please complete the VOD wizard, giving approval or giving your requests for changes. At this point, you may also purchase dubs of the spot – VHS, Beta, DVD, etc.. Please consult with your AE about the technical requirements to receive and view this type of file. If you do not have the capability, the AE can show your spot on his or her computer. VHS tapes are a last resort, as they are expensive to make and ship. There is a $50 charge for VHS approval, plus shipping.
If there are changes necessary, we will get your spot "fixed" as soon as possible. Please be sure you are as specific as possible regarding the changes you request. Your AE will be eager to sit down with you and review the spot with you, if the VOD approval process is not adequate for your needs. We ask that you view the fixed spot and reply to your AE and/or the Production Coordinator as soon as possible after you receive it. The sooner it is complete, the sooner we can get you "on the air!"
Media Formats
This section outlines media submission guidelines for Destination Network. The purpose of these guidelines is to provide technical specifications for media that is being submitted to our stations. Should you have any questions regarding your submission, please contact your Account Representative for more information.
Video Submission Guidelines
Preferred Formats
When providing raw footage for editing, we prefer as close to acquisition format as possible. Currently, we prefer HD resolution at 1920 x 1080 60i.
We are capable of receiving with these formats:
• FTP transfer (via sharefile, for items less than 2g)
• DVD data disk (items less than 4.7 gig)
• External Hard Drives (items more than 2g)
• HDV videotape
• DV videotape
• DVCAM videotape
• BetaSP videotape
• Blueray Disc
If you are submitting completed projects, please make certain to include a slate with your project has the following information:
• Name of Client
• Title of spot
• Date
• Exact Length
• Contact info of Production House
Dimensions for Submissions
If conversion of video from it's acquisition format is necessary, it should conform to these specifications:
• NTSC
• 1920 x 1080 60i (high definition 16:9)
• Drop Frame (29.97 fps)
Preferred formats for submitting files are:
• H264 Quicktime Movie (mov)
• Audio Video Interleave (avi)
Available Software
Generally, we prefer that you submit either unedited video, or completed project that have been rendered from your editing software. Should you need to submit a project init's native edit format, we accept projects from these systems (on a case by case basis, please contact us PRIOR to submission for approval):
• Final Cut Pro 7
• Adobe Premiere (CS5)
If you do submit a project in this manner, please use your software to "collect" all files and folders necessary and submit the archival version of the project. Keep in mind that we DO NOT have any 3rd party filters, effects or fonts and if you need us to work on these projects, you will need to include these items.
Graphic Submission Guidelines
Preferred Formats
When providing media for graphics files, we prefer the following formats:
• Photoshop files (psd)
• Jpeg (jpg)
• Illustrator Files (ai)
• Targa (tga)
• Tiff (tif)
• Bitmap (bmp)
If at all possible, please keep the files layered, rather than flattened. If you are providing the files in a flattened format, please include the alpha channels with them.
All of these formats should be AT LEAST 72 dpi, RGB, 8-bit files . If you are creating the files from scratch, It is good to start with 1920 x 1080. This creates a 16;9 aspect ratio. Keep in mind that our station presently down converts HD to SD using the "crop" or "center cut" method, so all HD projects should have graphics placed to be safe with a 4:3 crop.
Deliverables
To submit these files, we prefer them in these formats:
• FTP (please contact your AE for instructions)
• Email (5 MB limit)
• DVD data
• USB drive
• Hard Drive
Available Software
We use these software applications for creation and managing our graphics:
• Adobe Photoshop
• Adobe Illustrator
We DO NOT take graphics submitted from these programs:
• Microsoft products (Power Point, Expression, Word, etc.)
• Corel
• Quark
• Pagemaker
• Flash
Should you need to submit art from one of these applications, please convert it to one of the preferred formats (listed above).
Aspect ratio is the relationship of the vertical dimension to the horizontal dimension. It is expressed as a ratio. High definition aspect is 16 by 9, which is to say, the rectangle that is a television screen is 16 units by 9 units. This becomes important when selecting the best version of your logo. Many logos designed for print have a more horizontal aspect ratio.
Audio Submission Guidelines
Formats
Here are the preferred formats for submitting audio:
• AIFF files (48 kHz – stereo)
• WAV (16 bit – stereo)
• MP3 (192 kbits/s – stereo)
If you are including voice over AND music, we request that these elements be provided in separate files, one with raw voice over and one with music.
Deliverables
To submit these files, we prefer them in these formats:
• Email (5 MB limit)
• FTP (please contact your AE for instructions)
• CD data
• DVD data
• USB drive
• Hard Drive
Mailing Information
Please send your media to:
Destination Network
2125 Warner Ave.
Panama City Beach, FL 32408
Attn: Production Manager
If you would prefer to deliver via electronic means, please email for detailed instructions: production.manager@destinationnetwork.com.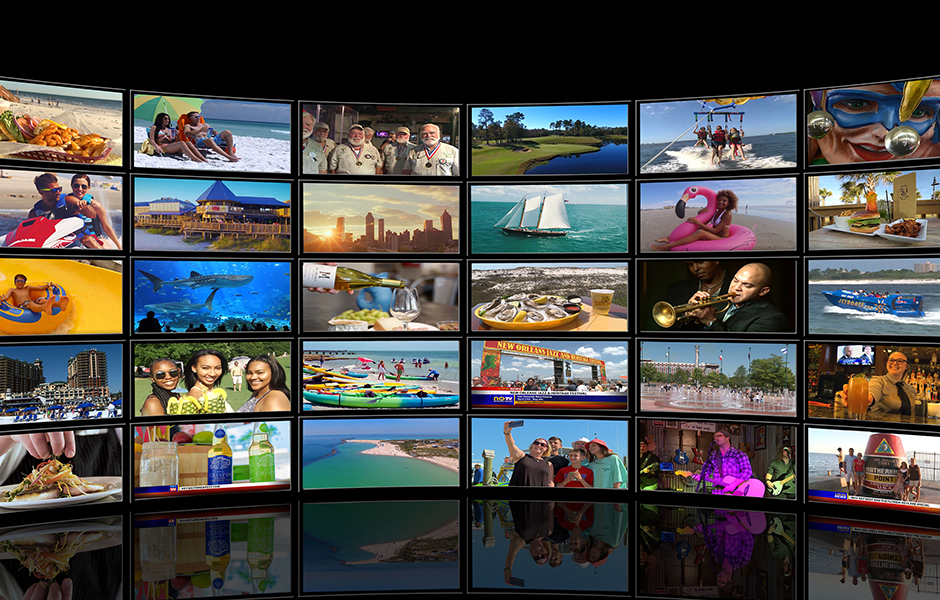 TV Stations
Atlanta, New Orleans, Myrtle Beach, Pensacola/Mobile, Panama City, Key West & the Florida Keys!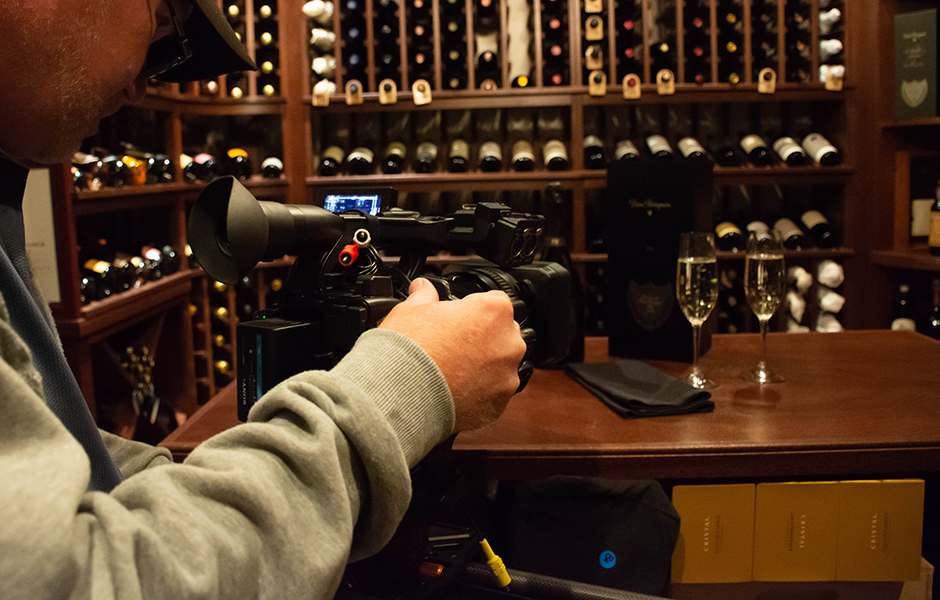 Production
Destination Network writes and produces virtually all programming seen on all DNET stations.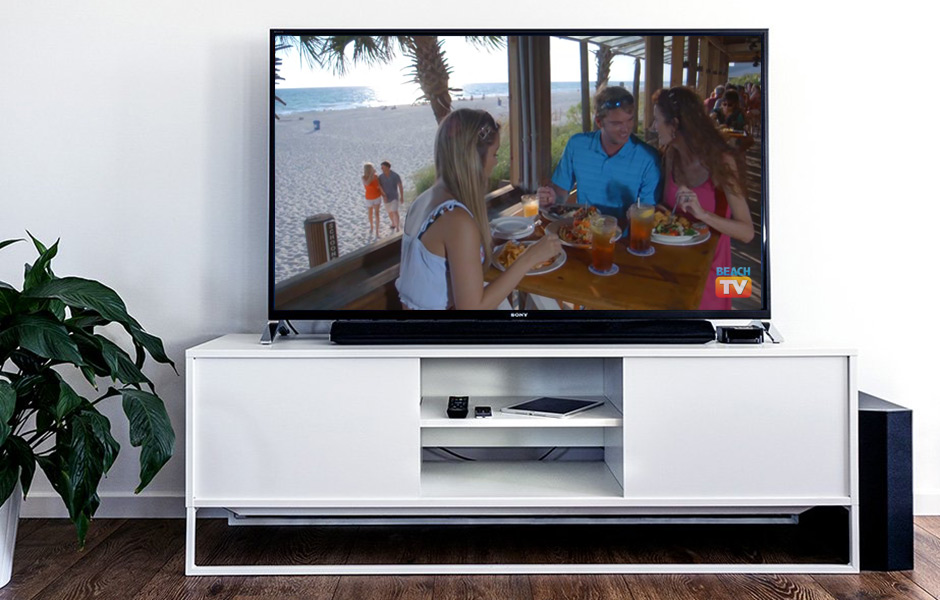 Advertising
All of our advertising content must be relevant to the unique interests and preferences of our traveling audience. Spot lengths range from :15 to 5:00.